15 Awesome WhatsApp Tricks You Never Knew
One of the top grossing apps in the market, WhatsApp has become more of a necessity these days than a mere luxury. From class group updates to staying in touch with old pals, it has brought the world a little closer. With over a billion downloads on both Android and iOS, the Facebook owned messaging application has made connectivity a whole lot easier.
There's a ton of WhatsApp features other than just sending texts over your cellphones. You can forward pictures of your last vaccation with your friends or video call your mom once a while. Besides all the features that meet the eyes, there are some secret WhatsApp features that not many people know of.
Let's take a dig into the sea of WhatsApp features' list and have a look at some of its tricks and hacks:
1.The Blue-tick torment
Often, you tend to get busy with your work and don't have time to reply to texts but you don't want the other person to realise that you already have read the message and left it on "seen-zone" as it makes you look ignorant and distraught towards your friends. Worry not, WhatsApp resolves this problem minutely.
How to do it?
Go to Settings on your device.
Open Account and select Privacy.
Disable your Read Receipts.
2. Get a hold of when your message was actually read
Breaking into another one of the WhatsApp secret codes, the blue tick doesn't always justify the actual timing of when the message was read, unless of course both of the recipients are online at the same time. Now, you can easily figure out the real timing of when a message was actually read.
How to do it?
Long press on any one of the messages that you have sent.
Tap on Info and Voila!
For iOS users, just left swipe the message and the information of the message read and delivery pops up.
3. Customise gifs through videos
Everyone knows about the GIF sharing feature on WhatsApp but in an attempt to evoke even more creativity, it has now embedded a customised GIF attribute to its latest update. You may now send your own unique GIFs and share a laugh or two with your friends.
How to do it?
Tap and hold the video recorder.
Select the GIF option.
Highlight the frames you want to add to your GIF.
4. Silent Group Chats
Every now and then, our chat screens are flooded with messages from group chats where we are reluctantly added. More often than not we find our phones ringing every now and thus creating a lot of nuisance and disturbance around. WhatsApp allows its users to prevent themselves from getting burdened by such messages by muting group chats.
How to do it?
Go to the Group Chat.
Tap the 3 dots on the top-right.
Select Group Info.
Scroll down and turn Mute Notification on.
You may now select the duration for which you want the notifications to be muted.
5. Save your data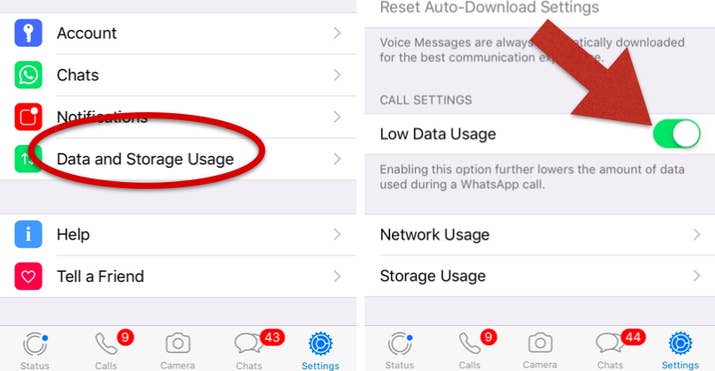 In today's era, one of the most important aspects in day to day lives is the internet and thus efficient use of your data is really crucial, WhatsApp lets you conserve your net pack with the aid of its 'Low Data Usage' feature. This helps you to save your precious data while downloading photos, videos or making WhatsApp calls.
How to do it?
Again, go to Settings.
Select Data and Storage Usage.
Turn on the Low Data Usage quirk.
6. Change font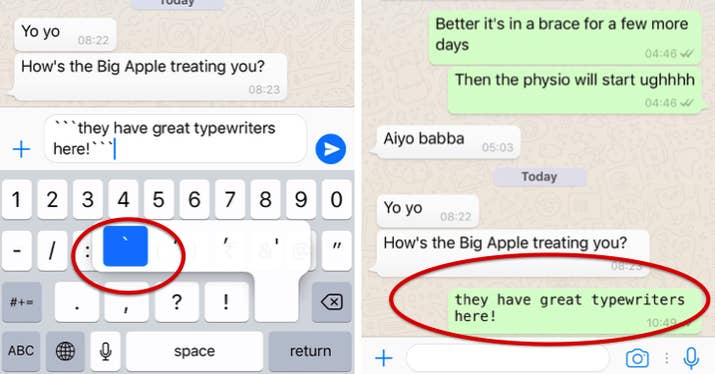 Yes, you CAN actually change your old boring WhatsApp font and no, you don't have do it from your phone's Settings. You can customise your fonts to your choice. You can make it bold or italics or send it in the Typewriter font.
How to do it?
To make your text bold, type * before and after the desired text.
To send it in Typewriter font, simply put "` before and after your text.
To transform your text to Italics, just put _ before and after your text.
7. Create an event out of a date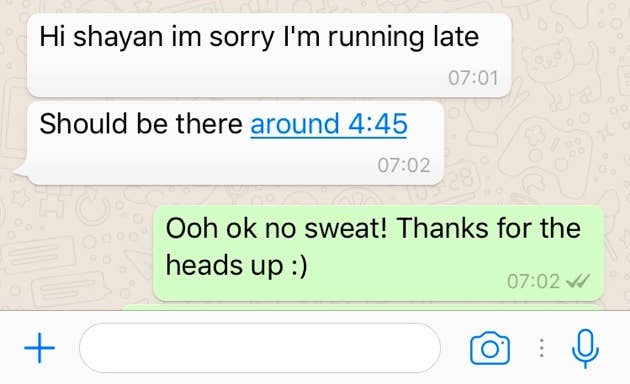 One of the interesting features of WhatsApp is that you can set reminders about events when anyone sends you a date.
How to do it?
Whenever someone sends you a date, it pops up as a link (in blue colour and underlined).
Just tap on the date and select Create Event.
You may add birthdays, anniversaries, convocation dates, etc. as reminders with the assistance of this feature.
8. Send messages without actually opening the app
This feature was newly added to Android after the introduction of OK Google to its interface. You can now send messages to your mates without actually having to open the application.
How to do it?
Activate Siri or OK Google on your device.
Say "Send a Text to (the name of the receiver) on WhatsApp" out loud.
You will asked for the content of the message once prompted.
9. Share your location
We all have friends that are often late and keep us hanging by repeatedly saying that they are just five minutes away. Well traitors, guess what, WhatsApp has brought in a feature that allows us to track our friends and relatives by sharing live location.
How to do it?
Just tap on the attachment symbol and select Live Location.
10. Add Conversations to Home-Screen
This feature lets you to set a shortcut to your frequent chats by adding it to your Home-Screen.
Note: This feature is only available on Android.
How to do it?
Open the chat.
Tap on the three dots on the top-right.
Toggle to More.
Select Add Shortcut.
11.  Pin your important chats
It is an extension of the above feature. You can pin chats of your freqeuntly texted contacts which will then always appear on the top of your chat list.
How to do it?
Just tap and hold on the desired chat.
Tap on the Pin symbol on the top-left.
12. Turn off auto-download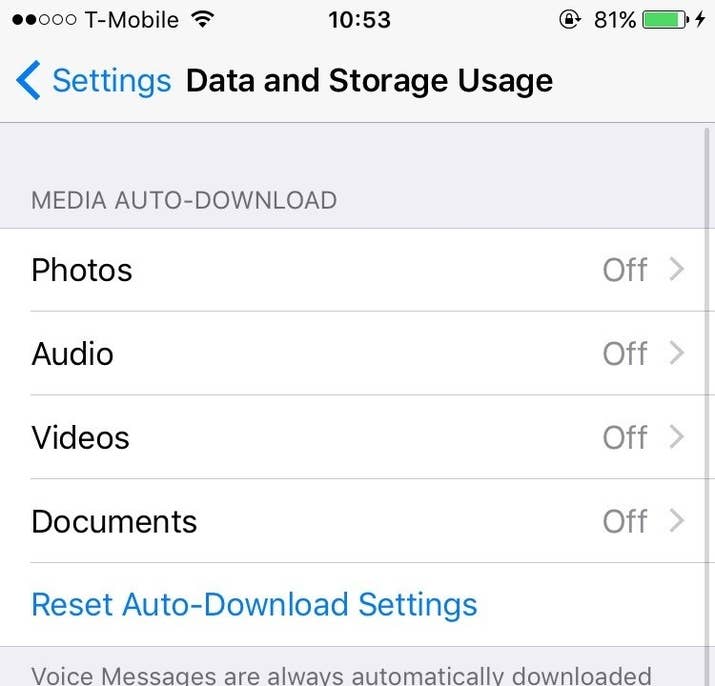 Our phones often get clogged with numerous photos and videos from our WhatsApp contacts. As a result, our phones are drained out of their storages. To solve this problem, you can just turn-off the auto-download option.
How to do it?
Go to Settings.
Tap on Data and Storage Usage.
Open Media Auto-download and toggle Never for all the tabs.
13. Limit your Profile's visibility
You don't always want to share the same type of information regarding yourself with all of your WhatsApp contacts. To your rescue, WhatsApp brings around a feature that lets you limit the visibility of your profile and you can select what you want to share with your contacts.
How to do it?
Go to Settings.
Toggle to Privacy through Account.
Change your Privacy settings to your requirements.
14. Set custom n
otificatio
n tone
To identify who's texting you without having to look at your phone, you can set unique notification tones for different contacts.
How to do it?
Open the chat info.
Scroll down to Custom Notification and set a distinct tone.
15. Message counter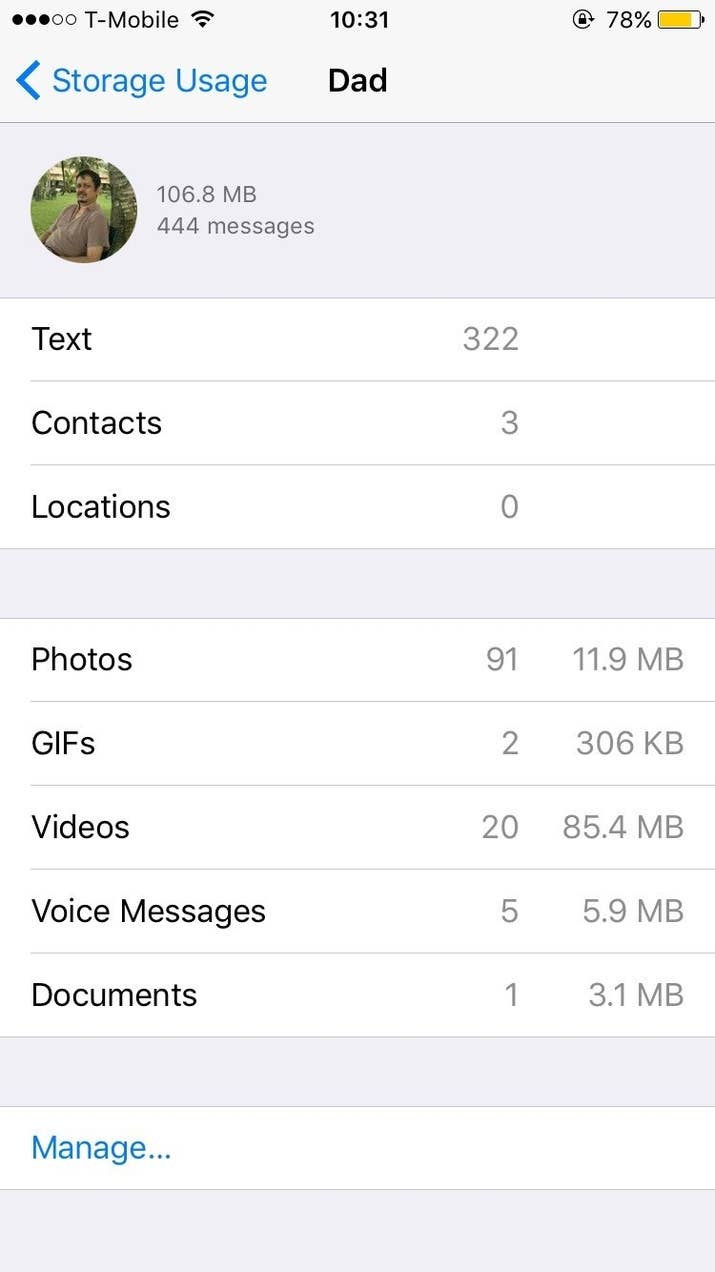 This feature lets you to discover the contacts you have interacted with the most.
How to do it?
Open Settings.
Go to Data and Storage Usage.
Tap on Storage Usage.
It will give you the insights of all the texts you have exchanged with your contacts.
An aspiring individual with a crude sense of humor and a dash of sarcasm.